Do you wonder if you are on the right path in fulfilling God's will for your life? Do you worry you are making the right choices daily to stay true to His will?
The Academy is for you!
By joining the Metanoia Catholic Academy, you will learn
How to better discern God's will for your life

How to discern if your desires line up with God's desires

How to take action, even when you don't know where to start

How to stay consistent and committed, even when willpower is lacking

How to identify hidden problem mindsets and what to do with them

How to surrender "the how" of God's plan and grow in trust and faith
TAKE CHARGE OF YOUR THOUGHTS
Knowing God's will begins with a renewing of your mind (Romans 12:2). Inside the Metanoia Academy, we teach you the practical process of managing your mind so you can discern the will of God.
ALIGN WITH GOD
In the Academy, we help you identify and recognize your God-given gifts, talents, and strengths, and discern how to use those in service of the Kingdom.
CHANGE YOUR HABITS
In the Academy, we help you identify the virtues needed to take courageous action, even if you don't know where to start, lack willpower, or aren't sure of the steps.
If you desire to turn away from fear and self reliance, to total trust in Him who has the perfect plan for your life, this challenge is for you!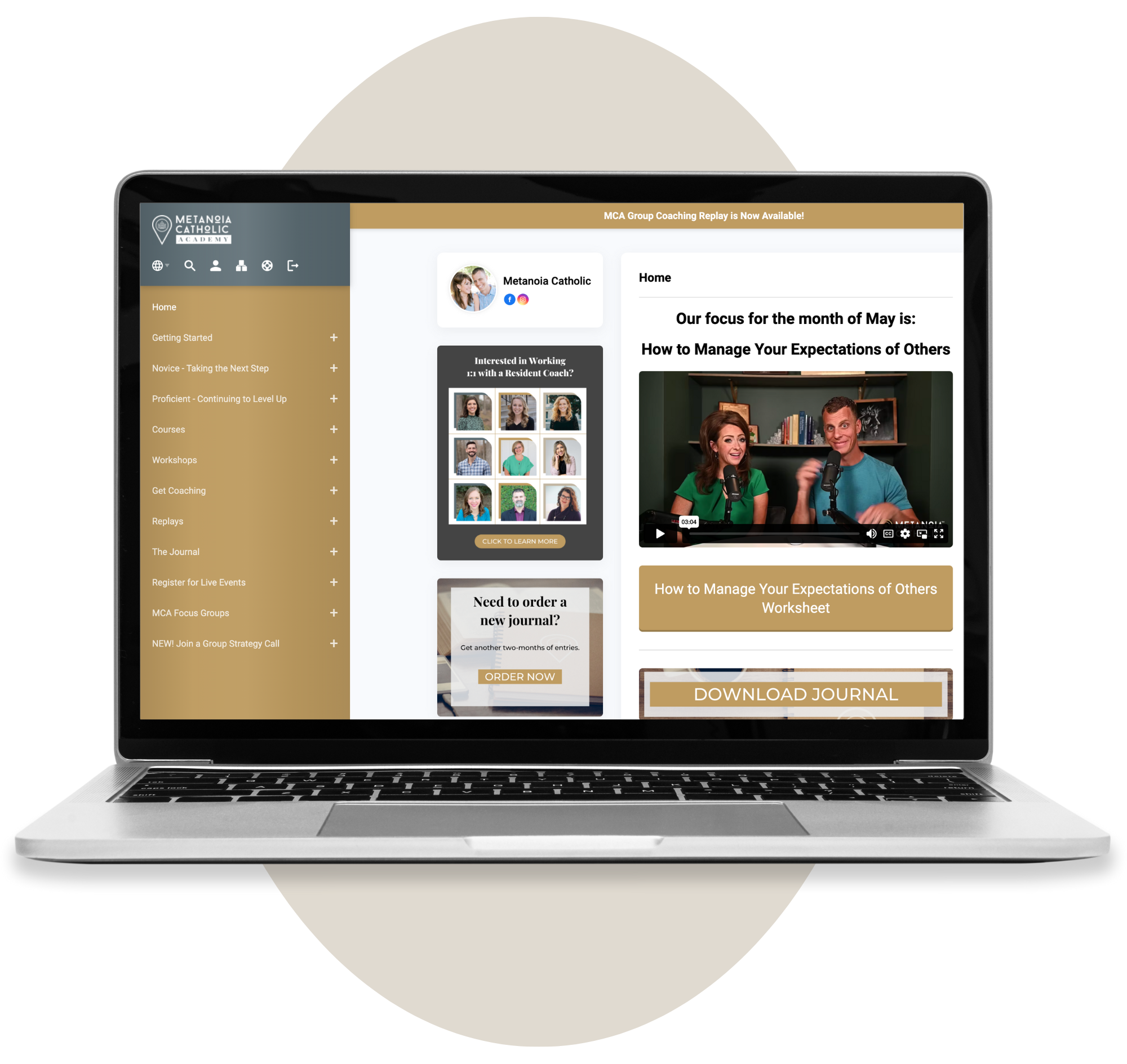 Weekly group coaching

join certified Catholic coaches for live coaching where you can recieve live answers to your questions.

VALUE: $200

Immediate Access to Self Coaching

gain access to a vault of recorded coaching calls on topics related to knowing God's plan for your life, trusting His plan, taking action, and trusting others.

VALUE: $150

Monthly Workshops

that allow you to consume content at your own pace on topics like goal setting, taking action, trusting God, and trusting others.

VALUE: $100

A Likeminded Community

find Catholics just like you who desire Christ centred personal development and want to align their will to God's

VALUE: PRICELESS

1:1 Coaching

Get focused attention with opportunities for one-on-one coaching.

VALUE: $100
Life changing. I have never loved myself so much.
It's a game-changer in my prayer life!
I love the Catholic aspect of this coaching! It was exactly what I was looking for.
I love how Metanoia Catholic uses Scripture for mind-renewal.
I love it! Huge growth and, more importantly, alignment with the Lord, which I've always been seeking, but couldn't get with secular coaching.
Metanoia Catholic has helped me see some of the lies I have believed about myself as a person … I believe I am on the path the Lord has planned for me.
Do you want to totally trust God's plan for your life?
Do you want to stay excited about your goal, stay consistent in working for it, and hold yourself accountable/give yourself grace when you fail?
Do you want to know if you are on the right path to fulfilling God's will for your life? Do you want to know if you are making the right choices daily to stay true to His will?
Do you want to stop jumping from one thing to the next and finally stay consistent?
Frequently Asked Questions
Are you operating under Church approval?
Yes! We have been approved to operate by our local ordinary (bishop).
What makes your coaching "Catholic"?
We ground our teaching in the Catechism of the Catholic Church and are committed to teaching only what it is in line with the Magisterium. Our coaching model includes God in your pursuit of goodness, because we believe that true Beatitude (our ultimate goal of supreme happiness) is only attainable through virtue and grace. God is the only author of good, and our purpose is to know the good, not invent it. Finally, we recognize that self-development takes place in the context of a spiritual battle, so we equip our clients with the knowledge, tools, and resources of our Catholic faith to resist the enemy as they seek Beatitude.
What is the difference between coaching and therapy?
There is a lot of overlap between coaching and therapy, but here are three important distinctions. First, mental health practitioners can diagnose and treat mental illness, while coaches do not diagnose and treat mental illness. Second, coaches and therapists work with different people on the spectrum of mental health. Therapists work with people who are mentally ill or living below a baseline of what is considered to be mentally healthy (though they can also work with healthy people who desire greater wellness), while coaches help people who are mentally healthy (at or above baseline) achieve greater wellness. Third, mental health professionals work with patients on past, present and sometimes future wellness, while coaches tend to focus on present and future wellness with a targeted goal in mind.
What is the difference between coaching and spiritual direction?
Coaching focuses on human formation, such as helping clients work toward a noble material goal or increase in acquired virtue. Spiritual direction focuses on developing a person's prayer life and relationship with God. Coaches typically meet with clients more frequently (daily, weekly or biweekly) while spiritual directors typically meet less frequently (6-8 weeks). The coaching relationship is typically focused on short-term goals with a finite end, while spiritual direction is long-standing and may span the life of the director or directee. Coaching and spiritual direction can work effectively in conjunction with each other.
Do you take insurance?
No. Coaching is a service not covered by insurance.
How do I know if I need coaching?
First of all, nobody "needs" to go to a coach. But you may benefit from what we offer at Metanoia Catholic if you:
Struggle with stagnation in spiritual, relational or professional growth

Have a goal, but just aren't making any progress towards it

Feel like you have more potential, but don't know how to tap into it

Struggle with making decisions or sticking to them

Feel like a spectator of your own life

Feel controlled by your life and circumstances

Keep running into the same problems over and over again

Need better boundaries

Want to be more intentional about growth in virtue

Feel bored with your life, or if the thought of being the same person one year from now makes you feel sad.
Whether it's the journal, the Metanoia Academy, the Purgative Way Course for coaches or one-on-one coaching with a Metanoia Catholic Coach, we are here to help you find your life in God's abundance.
Why We Got Started
When Erin and Matt Ingold reached the point of frustration and burnout in balancing life as parents, professional coaches, and trying to be involved at their parish, they knew something had to change. So they began to focus on combining their life coaching experience with their Catholic Faith — and found their lives being transformed in amazing ways. To help more Catholics experience the powerful effects of this model, while avoiding many of the New Age pitfalls in the self-development world, they launched Metanoia Catholic. Drawing on their coaching experience and training with the Theology of the Body Institute, Franciscan University of Steubenville, the Augustine Institute, and Divine Mercy University, Erin and Matt focus on helping each person find freedom by growing in grace and virtue in partnership with God.